This page is to highlight our games Currently In Development at the moment.
We have one game currently in production that we have open for announcement.
Our newest game THE MAGICIAN'S RESEARCH will be coming EARLY ACCESS to steam OCT 2019. Join us with your feedback in developing the game with extra features and refinements! The store page is live now so be sure to add us to your wishlist if you're interested in joining us.https://store.steampowered.com/app/1155120/The_Magicians_Research/
You can also join us on the discord at https://discord.gg/Khm9UUm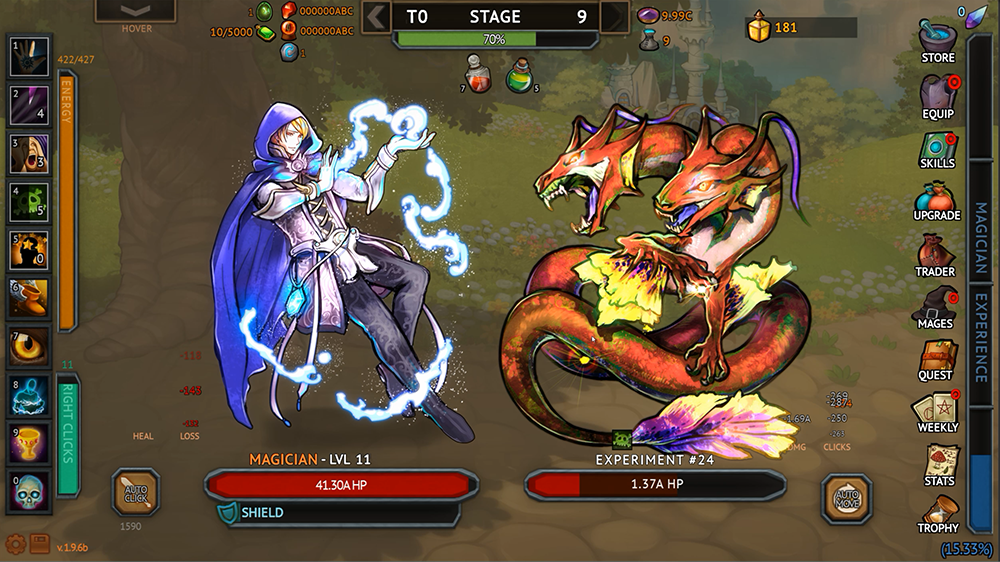 The Magician's Research is an Incremental game with tons of features. It'll have more idle friendly mechanics than our previous games, but still reward active playing. We look forward to seeing you around and we'll post more as our development continues, as we love games from all types, including casino games can be found online, and you can click to visit these sites here.

The MAGICIAN'S RESEARCH is an RPG style INCREMENTAL – MANAGEMENT Game! The Experiments of the Mage's Guild have broken out and you are tasked with tracking down and disposing of them before they can disturb the nearby towns!
NO REBIRTH SYSTEM – Forever Progress!
-Choose from 1 of 10 Magician's with their own unique bonuses to be your HERO.
-Both you and the enemy have health, keep your Hero alive!
-Use spells and defeat Escaped Experiments to harness their magicks for yourself.
-Click for some extra manual Damage and Healing (Or use the built in Auto-Clicker to save your mouse)
-Auto-Progression that will toggle on automatically after time to help you progress even while away.
-Level your Magician and spend those points in the Skill Tree.
-Complete Quests.
-Craft and Upgrade Armor.
-Spend Liquid Gold, Runes, Dragon Eggs, Arcane Scrap, and Magic Dust on Upgrades!
-Trade Amulets for Treasures!
-Offline Gains for up to 10 hours!
-Daily Login Bonuses
-Weekly Bonuses
Why Early Access?
"The game is currently in a playable state but we would like to refine and expand on it so we chose to go into Early Access. We would like to add additional balancing and features to the game based on feedback from the community."
Approximately how long will this game be in Early Access?
"We anticipate that the game will be in Early Access for approximately 6 months. This will allow us time to incorporate feedback and evolve the game's vision, potentially expanding it quite extensively."
How is the full version planned to differ from the Early Access version?
"Ideally we'd like to introduce some form of multiplayer and social functions such as pvp and/or guilds. We'd like to add in more Magician choices, further Upgrades, a Hireling system where you can send out timed Hirelings to bring back rewards and more."
What is the current state of the Early Access version?
"The core gameplay is completed and roughly balanced. Players can advance through stages fighting experiments and gaining research. You can choose between 10 Magicians as your Hero.
You can find a variety of currencies to spend in different windows at different traders. There are offline rewards and daily login bonuses already in the game."
Will the game be priced differently during and after Early Access?
"The Magician's Research is currently Free-To-Play in Early Access and will remain Free-To-Play after launching."
How are you planning on involving the Community in your development process?
"We highly value feedback from the community and will be active in the Steam discussion and news feed. We will also collect feedback from players in the Magician's Research Discord!"