God Awefull Clicker is a Free-To-Play RPG Clicker game full of greek mythology and epic battles.

CLICK HERE TO SEE IT ON STEAM
In God Awefull Clicker you'll battle your way through the trials of the Greek Pantheon and recruit them to your side. Play along with Zeus, Aphrodite, Aries and the rest of the pantheon as a choice of your party to aide you in your fight to rise to the top! As you defeat their chosen champions, members of the Greek Gods will join your quest and provide you with spells and abilities, increasing your powers.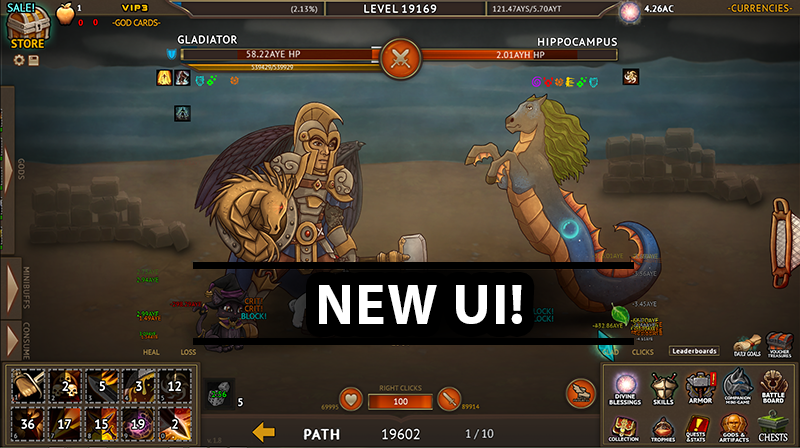 God Awe-Full Clicker is an Endless Dungeon Clicker/Idle game full of Greek Mythology and Epic Battles with RPG style aspects.
KEY FEATURES
Decimate your Enemies with a combination of Clicking and passive Damage!
Level up and unlock Skills and Classes to take your Hero in different directions.
Earn GodPower and Spend it on Divine Blessings to get stronger. No reincarnation necessary.
Craft, Upgrade, and Optimize your Armor!
Recruit Gods to your cause and find their Artifacts to give them more power!
Complete Quests, Collections, and Trophies.
Roll the in-game dice to get instant rewards!
Spend some downtime on the Companion Mini-game to earn more in-game rewards.
Find Golden Apples and choose from a series of powerful upgrades!
Don't want to break your mouse? Use the built in Auto-Clickers to click the enemy for Damage, or your Hero for Healing!
Still want to click even with those on? Right clicking can deal heavy damage, and clicking in an Ambush Maneuver can do 200%+ Click Damage!
Face many known or not so well known Greek Gods and Champions and kick all of their behinds.
The Greek Gods have taken an interest in you as a Gladiator renowned for your prowess in the Arena. Zeus himself has sent his other Gods to test your mettle and train you to see if you're worthy of being a Guardian of Olympus. Recruit these gods to your side and train with them as they set you in front of enemy and enemy, summoning Champions, and sometimes even other Gods to push your limits. Find their Artifacts to increase their powers and steal the GodPower from enemies to increase your own.
Forge armor to build up your strength and defenses, and spend your skill points to specialize your Gladiator!
Like many other Clicker genre games, in God Awe-Full Clicker, you click things! Click the enemy to deal damage, use your right mouse button to deal heavy damage, click in ambush maneuvers to deal even greater damage, click your Gladiator to heal him, or click one of the many menus to open them.
God Awe-Full Clicker provides a lot of customization to the way you play with in-depth systems for Armor Crafting, Skill Trees, Classes, Divine Blessings, and more.